Robyn O'Brien, a mother of 4, is an unlikely adversary of the chemicals put in our foods by food manufacturing industry. When her child developed allergy problems, she was thrust into a search for answers. She now is the founder of allergykids.com, has a blog called Food Politics and is a regular contributor to Huffington Post.
From a conservative Texas family, Robyn has been radicalized by the negligence of our food industry and the FDA in protecting the health of our citizens. Here is a post she did on Huffington Post about GMO's (genetically modified organisms).
Her new book,  THE UNHEALTHY TRUTH: How Our Food Is Making Us Sick and What We Can Do About It was published by Random House earlier this month.  Robyn has been on major network TV promoting the book, which will help us sound the alarm to parents all over America.
I was telling my mother about GMO's last night, and she said, "What's that?"
"Mom, chemical companies have found a way to modify the genes of seeds and plants. Some scientists and doctors believe this puts humans at risk."
I then went on to explain that 90% of soy has been genetically modified, which means it is tolerant to Roundup, a poisen that kills all forms of vegetation.  My mom, being a gardener is familar with Roundup. "Mom, the soy plants can tolerate Roundup, but can you?"
Mom said, "I don't eat soy."
Then I had to explain to her that many vegetable oils were made from soy.  Mom, every time you eat out, you are getting vegetable oils in your meal. Many of the processed food products you buy, like that pancake mix and chocolate bar, have soy."
Mom was shocked.
Robyn's book includes her personal story, as well as, a look at the latest science on the potentially dangerous ingredients recently introduced into our food supply.  There is also quite a bit about the revolving door between the FDA and the food industry and the influence of industry and money on scientific research, addressing why the U.S. is one of the only countries in the developed world to have allowed these chemicals into our food supply.  It is a call to action that shows how each of us can do our part to prevent disease and its associated health spending in order to maintain our country's competitiveness in the global marketplace.
Advanced praise comes from Erin Brockovich, Dr. Oz, Robert F Kennedy, Jr., Dr. Bob Sears, Graydon Carter, editor in chief of Vanity Fair and other prominent people have leant their voices to the book.
I would like to nominate Robyn as a Hero of Sustainable Agriculture, because her book teaches people what they need to know to make better food choices, and even has recipes. Ultimately, her readers will find cooking from scratch and farm fresh, local sources of food, such as those recommended by Weston A. Price volunteer chapter leaders,  offer the most control over what you are ingesting.
Should you want to learn more, please visit www.robynobrien.com
Join Robyn on Twitter: Unhealthy Truth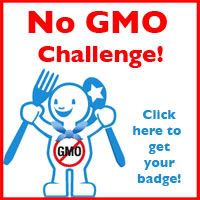 This post is part of the NO GMO campaign on realfoodmedia.com, and has been submitted to No GMO Mondays on The No GMO Challenge blog.
<