by Guest Contributor, Robyn O'Brien
People Magazine has a review of my book,  THE UNHEALTHY TRUTH, in their June 1 issue (Bristol Palin on the cover).
The review features a Q&A in which I address the precautionary principal as well as the "80/20 Rule", which I propose in Chapter 8 of THE UNHEALTHY TRUTH, along with a picture and the book's jacket cover.
The writer did a phenomenal job conveying the message in the space provided.
Q&A:
Redbook: How did you even start to tackle this research, and what did you learn?
O'Brien, author of UNHEALTHY TRUTH: My background is motherhood – I have four kids between the ages of 4 and 9 – but also in finance. So I began to look into the numbers.
I discovered that since the 1990s, this country has been adding genetically modified organisms (GMOs) to its food supply. That means some of our food has had foreign proteins inserted into it, for many different reasons. For the past 15 years, for instance, much of our milk has come from cows injected with a hormone called rBGH, to increase their milk production. And 80 percent of our corn now contains an insecticide so we lose less crops to pests. I wonder whether a child with allergies might be reacting to those foreign proteins. As I learned in business school, correlation is not necessarily causation. There is a strong enough correlation, however, that I feel it merits investigation (which industry funded allergists are not conducting).
Redbook: Creating a chemical-free diet sounds time consuming – and pricey.
O'Brien: I can totally relate. So I made really simple changes…it takes who knows how long to wean a kid off a sippy cup or to potty-train, and that's how I approached it -it wasn't going to happen over night…..
Redbook: So starting with one change can make a big difference?
O'Brien: Yes, that was critical. If I had to do one that, what would that be? My boys were milk guzzlers. So I thought, I'm going to buy milk that's rBGH-free. It's available at Wal- Mart, Safeway, Kroger. It's really, how do you reduce the loads of chemicals your kids are getting. You can't always go cold turkey…
Redbook: What overall changes need to be made in this country to ensure that our food supply is safe?
O'Brien: Our food system is in dire shape. In 2007, the FDA stated that it is woefullyunderfunded and that "American lives are at risk."They don't have the money they need to investigate and protect us from potential toxins in the food supply. If we can bail out the banking system, then we need to prioritize funding for the FDA…

Robyn O'Brien, a mother of 4, is an unlikely adversary of the chemicals put in our foods by food manufacturing industry. When her child developed allergy problems, she was thrust into a search for answers. She now is the founder of allergykids.com, has a blog called Food Politics and is a regular contributor to Huffington Post. Visit her website: http://www.robynobrien.com/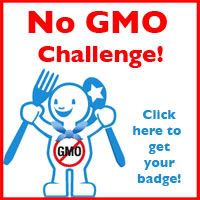 This post is part of the NO GMO campaign on realfoodmedia.com, and has been submitted to No GMO Mondays on The No GMO Challenge blog.