How One Chef's Concern for Sustainable Agriculture Drew Him Closer to the Animals, to the Farm
by Mike Peterson, Mount Vernon Farm
The sun rises, there is the smell of grass, my shoes are wet from the dew.  In the distance I can hear the hens ready to start their day, the flock of sheep ready to be moved to their next section of forage, and the weanling calves still bugling and craving my attention.  This scene has played itself out nearly every morning the past four months at Mount Vernon Farm in Sperryville, VA.  I am now four months into a six month educational intensive internship devoted completely to the understanding not just of the care of the animals, but of the health and welfare of the grass, the soil, and the earth which supports these animals.  You might be wondering then, why I am writing this.  Am I just a kid looking for a summer job?  Someone catching up to the sustainable agriculture movement?  Maybe.  I am a trained chef, who, over the past two years, with the support of my wife, have decided to put that aspect of my life on hold.  Whether it be a temporary or permanent hold is still undecided.
I attended culinary school at Johnson & Wales University in Denver and spent 4 years living in the Aspen area, gaining experience in each resort, club, and independent restaurant that I worked at.  It was during my time as Sous Chef at a private club when the importance of local agriculture hit me hard.  The club in which I worked was one of the few private clubs which actually turned a profit.  It was a very successful operation, at least the food and beverage portion of it.  During my time here, I became more responsible for procuring our products.  There was one farmer in particular who also happened to be the baker that we purchased our breads and pastries from.  Among other things, he was also a grass-based beef producer.  He did well with the business we gave him through his baking, but it was his beef that we was very proud of and wanted us to carry it in the country club.  I was very much in support of using his meat, however there was resistance from management.  "Let's be realistic, he's not going to be able to supply us with the meat we need."  Well, we never knew for sure if he could or not because he was never given an opportunity.
Shortly thereafter, my wife and I left Colorado and came to Virginia.  Myself with no job and my wife, with great ambition, was starting her own business as a photographer.  I took some time off to regroup and relax.  I then decided to pursue a job at The Inn at Little Washington where I was a butcher as well as working nights preparing second courses.  I was one of the few people that worked there that hadn't moved to the area for a job there.  Rather, we loved the area so much that we had decided a move here was necessary and we would figure out our jobs after we had settled.  During my tenure at the Inn, local agriculture was still on my mind as the Inn is very well known for supporting local farms and agriculture.  I was still frustrated, however, that I was not playing a large enough role in being certain that local, sustainable agriculture would actually survive this processed food fad that we are currently in.

So, what better way to immerse myself in preserving agriculture and making a positive impact in it, than to work on a farm!  Mount Vernon Farm particularly appealed to me because of the positive impact they have on the community, the environment, and of course the diversity of livestock that is raised here.  I went into the internship program at  Mount Vernon with an open mind and was ready to take on whatever was thrown my way.  I was particularly drawn to Mount Vernon because they had expressed interest in making their way into restaurant sales and establishing relationships with chefs.  That has been an ongoing project for me over the past 4 months and it's coming along well.  It takes quite a bit of flexibility for the restaurant to understand that a cow is not completely made out of tenderloin.  There are actually more cuts in the animal that are great, maybe not as recognizable, but still very useful.  It may take a bit more creativity on figuring out how to best utilize the whole animal, but I think it makes for a respected and better recognized chef and restaurant that are willing to go the extra mile and work with the farm on what is available, not solely based on what they need now.

The stress of the kitchen is not something that I particularly miss.  Now, I can go to work with my dog (I have three, but choosing one and rotating seems to work out for now!), my wife can drop in for a bit and visit and I can look forward to dinner at home every night.  Quality of life played a large role in my decision to pursue a career in agriculture.  I am often asked if I will get back into cooking.  As of now, I say, if that is the path that preserving a local food community takes me in, then yes I will.  Right now, my energy is going in the direction of how I feel my talents and abilities are best suited to preserving the local food economy.  As a chef, there is only so much you can do to support a farm or a group of farms.  Actually working on the farm, being with the animals every day, taking part in day-to-day decison making gains a deeper respect of where our food is coming from and the efforts that go into improving the quality of life for the animals on the farm is better suited to me than spending 12 hours a day in a kitchen.  No matter how glamorous or famous the kitchen may be, it doesn't even compare to knowing that I have made a positive impact on the life and well-being of the animals and land that sustain our culture.  I still do love to cook and continually hope that my culinary background combined with an expanding knowledge of agriculture will be an asset in the future.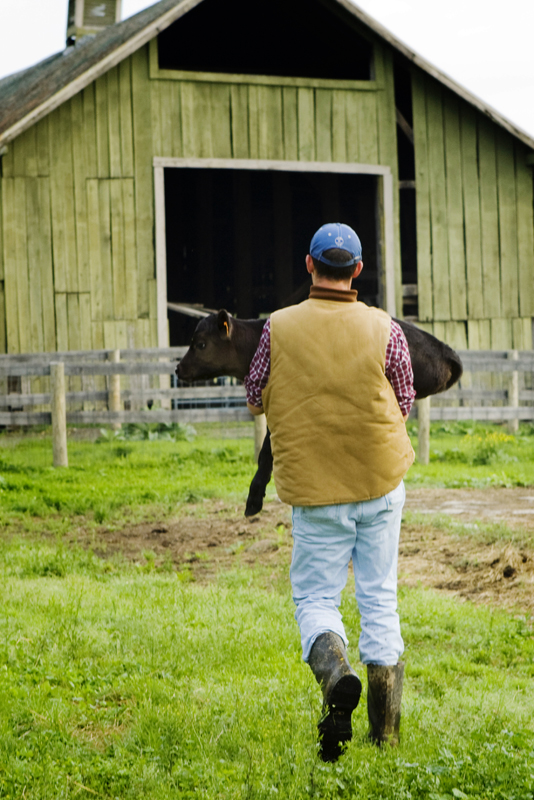 Mount Vernon Farm proudly raises 100% Grass-Fed, Grass-Finished Lamb, Beef, and Pastured Pork & Poultry.  All of our animals are raised without the use of anti-biotics, growth hormones, or chemical fertilizers.  Our animals spend their days as they should, foraging on pasture and not nose-deep in a grain bin as they would be if they were kept in a feedlot.  The treatment of our animals plays a large role in the quality of our products.  They are handled stress-free and humanely, thus living their entire lives without a single worry.
Kimberly asked me to share a recipe for something we raise on the farm. Here is my recipe for Five Spice Rub Lamb Shanks.
Mike Peterson is currently a 'long-term' intern at Mount Vernon Farm.  A long-time desire for sustaining local agriculture has brought him from a Five-Star, Five-Diamond professional kitchen to the farm in hopes of gaining the long-term education on what exactly it takes to support and educate a community.  Mike still keeps in touch with cooking by helping Mount Vernon Farm customers understand cooking methods and recipes for grass-finished meats, as well as occasional private dinners.
If you live in Northern Virginia,  join the Mount Vernon Farm Farm Buyers Club by visiting their website, mountvernonfarm.net.

Photos for this article were taken by Mike's wife, Molly M. Peterson www.mjmphotography.biz. Molly is a portrait photographer and her work also appears in Flavor Magazine.
This post is part of the Food Roots blog carnival on Nourishing Days blog.