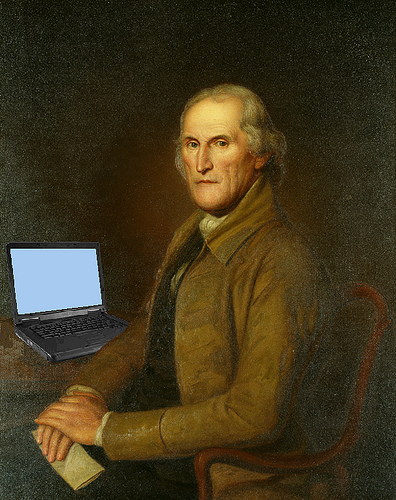 photo credit: Mike Licht, NotionsCapital.com
Blogging Our Way to a Better Tomorrow, for America's Farmers (and the Rest of  Us)
The artwork above, James Latimer Blogging by Mike Licht is the perfect illustration of blogging as an American Revolutionary medium. James Latimer was an Irish American immigrant who played an important role in the founding of our nation. In the past year, many revolutionary, albeit peaceful, ideas have graced this blog. I am grateful to all the guest bloggers who have donated their time and talent to building Hartke is Online! into a force for change in America's foodways.
I have always loved year end retrospectives done by the broadcast networks. The year in top stories is always an important review, on the cusp of a new year. So, now that I am an online publisher, I am eager to share our blog's top stories from 2009. Today, I will do publisher's (that would be me) picks of the best guest blogs and tomorrow, I will post the 10 stories on Hartke is Online! as judged by the Google search engines to be the most widely read.
All of my guest bloggers are Heroes of Sustainable Agriculture. Even though they all can't be in the Top 10, I honor all of you!  In no particular order, here are my pick's for best stories of 2009.
1)  Janice Curtin's, How to Cut the Cost of Healthcare should be required reading for all American's, especially our leaders.
2) The first blog story to get a coveted link from Huffington Post is Prison Food-The Grass-fed Model by Susan Blasko.
3) The most beautiful blog in words and pix was Mike & Molly Peterson's From Five Star Chef to Farm Intern.
4) Soybeans are Poisoning South America is the best international story that I had the honor of publishing for Maria van Heemstra.
5) Steve Bemis was recognized as Top Web Op-ed of the week from OpedNews.com with one of his posts. Here is another one I love, Food Safety Legislation is a Threat to Small Farmers.
6) The highlight of my year was the submission of a blog by a Canadian editor, Anthony Kovats for Michael Schmidt Month, Dairy Trade Editor Weighs in on Raw Milk Controversy.
7) Milk-O-Matic-A Big Hit in Slovenian Farmers Markets by Sylvia Onusic was a facebook sensation, and generated emails from a number of folks interested in purchasing the technology.
8 ) Best investigative report came from Jim Bynum, Who Slimed the Spinach? which tells why contaminated waste water (not wild boar) was to blame for the spinach outbreak.
9) Awesome liver pate recipe post by Stephanie Small, Liver-The World's Most Nutrient Dense Food.
10) Last and certainly my dearest guest blogger is an 80 year old farmer from Connecticut, Robert Burns who kicked off a series of great blogs with Spies in the Farmers Market.
Most of these wonderful guest bloggers submitted multiple posts this past year. Please put their name in the search box to find more of their great stories!  If you like these stories, please tweet and facebook them. They are all as relevant today as when they were first written, if not moreso.
By the way, if you have a favorite from this past year, either from this blog or another one, please share it in the comments, below! See you tomorrow with Googles' Top 10.

Paid Endorsement Disclosure: In order for me to support my blogging activities, I may receive monetary compensation or other types of renumeration for my endorsement, recommendation, testimonial and/or link to any products or services from this blog.