A facebook fan asks, "are bitters safe for pregnant women," Sally Fallon Morell and Guido Mase answer.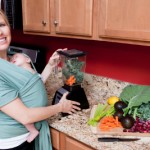 What is the optimal diet for a mom, prenatal and postnatal? How you nourish yourself impacts your developing baby within, and gives you the energy you'll need as a new mom.
The Pharmaceutical Industry wants your children, even your unborn children! After defining the average (normal) cholesterol reading as disease, now everyone in America is a potential customer for statin drugs, even our children and unborn children!