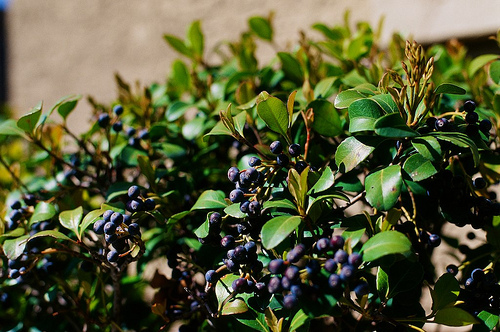 photo credit: 21TonGiant
By Stanley A. Fishman, Author of Tender Grassfed Meat
The Native Americans were experts in cooking bison. They did not use salt in cooking bison, but they often used blueberries and wild onions, and fat. While they did not use olive oil, it really carries the flavors of the marinade into the meat.
Bison Steak with Blueberry Marinade
Serves 4
4 grassfed bison sirloin steaks, (or strip steaks, or rib steaks), about ½ pound each, cut about 1 inch thick
For the Marinade
¼ cup organic blueberries, fresh or frozen (thawed if frozen)
2 tablespoons filtered water
4 organic green onions, very finely chopped
3 tablespoons unfiltered organic extra virgin olive oil
For Sautéing
2 tablespoons pastured butter
1.    The day before you plan to cook the steaks, make the marinade. Combine the water and the blueberries in a bowl. Crush the blueberries into the water with a sturdy fork. When the blueberries are well crushed, combine with the green onions and the olive oil. Place the steaks in a glass bowl, coat all surfaces with the marinade. Cover, and let rest at room temperature for 1 hour. Refrigerate overnight.
2.    About 1 hour before you plan to cook the steaks, remove them from the refrigerator so they can come to room temperature. When the hour is up, wipe off as much of the marinade as you can.
3.    Heat the butter over medium heat in a heavy frying pan, preferably cast iron. When the butter is hot and slightly smoking, cook the steaks for 3 to 4 minutes on each side, until there are done to your liking.
To learn more about this tender grassfed meat, please read my related post entitled Grassfed Ranchers Restore the Bison and the Soil.
Stanley Fishman is the author of Tender Grassfed Meat cookbook and a frequent guest blogger on Hartkeisonline.com. See Stanley's other healthy recipes on his Guest Blogger page.
To find grassfed meat, see the Hartke is Online.com Resources page.

Paid Endorsement Disclosure: In order for me to support my blogging activities, I may receive monetary compensation or other types of renumeration for my endorsement, recommendation, testimonial and/or link to any products or services from this blog.