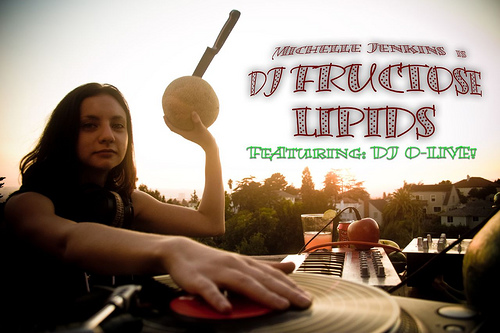 photo credit: ninafrazier
by Guest Blogger, Sylvia P. Onusic
In 1967 HFCS was introduced into the American diet and rapidly replaced sucrose as the major sweetener. HFCS is used also in many products as a preservative. From 1970 to 1990 the rising intake of HFCS far exceeded the change for any other food. Such a drastic transition in the diet, accompanied by a rapid increase in obesity, childhood diabetes, non alcoholic fatty liver, learning problems and autism during the same time period,  raises many alarming questions
According to the USDA, by 2007, the average American consumed an estimated 66 pounds of HFCS each year, or about 12 teaspoons each day.
After HFCS was introduced, the amount of calories Americans were eating from all sweeteners increased. Supersizing came on the scene.  One bushel of corn produces about 33 pounds of the stuff, but in order to make HFCS, producers have been using mercury-grade caustic soda. In 2003 the Environmental Protection Agency (EPA) reported in the Federal Register that, on average, approximately seven tons of mercury were missing from each factory in the year 2000.  Scientists followed the trail and found that the missing mercury was ending up in the HFCS and in the products produced with it.
HFCS does not occur naturally but is produced from corn in a very complicated process involving different chemicals, whereby the amounts of fructose and glucose can be manipulated.  Mercury grade caustic soda, made in mercury cell chlor-alkali factories, is an essential chemical in this process.
In the US there are 4 factories using this technology run by the Olin Corporation at Augusta, Georgia. and Charleston, Tennessee, by Ashta Chemicals in Ashtabula, Ohio, and by PPG Industries in New Martinsville, West Virginia.
While the Food and Drug Administration (FDA) had evidence that commercial HFCS was contaminated with mercury in 2004, the agency did not inform consumers, help change industry practice or conduct additional testing. Mercury contamination of soft drinks or drink mixes made from this caustic soda was acknowledged by the National Association of Clean Water Agencies as early as 2000.  Under U.S. federal law, chemicals added to foods as preservatives are supposed to be FDA-approved, but HFCS carries no such approval because in 1996, the FDA determined that HFCS is GRAS- generally recognized as safe, even though it had not been studied or tested for safety making it easier for the food industry to operate.   Consumers beware!
The Institute for Agricultural Trade Policy (IATP) sent 55 brand-name foods and beverages containing HFCS as the first or second ingredient, to a commercial laboratory to be tested for total mercury. Nearly one in three products tested contained detectable mercury. Mercury was most prevalent in HFCS-containing dairy products, followed by dressings and condiments. it was found in Quaker, Hunt's, Manwich, Hershey's, Smucker's, Kraft, Nutri-Grain and Yoplait products  and found at levels several times higher than the lowest detectable limits in some snack bars, barbecue sauce, sloppy joe mix, yogurt and chocolate syrup.  Elevated mercury levels were also found in some soda pop, strawberry jelly, catsup and chocolate milk. These products are heavily marketed to children, the elderly, and to lower economics groups. The book, Fast Food Nation, talks about marketing campaigns aimed directly at young children to "hook" them on fast foods and sodas early on.
Mercury is a toxic metal which creates havoc in the body. For pregnant women, most of the mercury crosses the placental barrier to the fetus.
It also concentrates in breast milk. Small doses of mercury can impair the brain and the developing nervous system. When babies are exposed to elevated mercury in the womb, their brains may develop abnormally, impairing learning abilities and reducing IQ. For these youngest children, the science increasingly suggests there may be no "safe" level of exposure to mercury.  The effects of in-utero exposure to mercury can take months or years to appear.
The American Academy of Pediatrics has recommended that minimizing any form of mercury exposure is essential for optimal child health and nervous system development.  Given how much high fructose corn syrup made from mercury caustic soda is consumed by children, it could be a significant additional source of mercury never before considered.
Is there a connection between maternal intake of HFCS, autism, and learning deficit disorders?  The high consumption of sugary foods and food additives has been shown to have a direct link to learning difficulties and attention deficit disorder.  The government  adds to this problem by providing subsidies to school lunch programs which are characteristically low in vegetables and disproportionately high in fat, additives, preservatives and HFCS.  More research must be done to explore the connection of HFCS and autism, especially now that mercury has been found in many common foods containing HFCS, yet factories continue to produce it and food manufacturers continue to use it.
Food manufacturers don't list the sources of the HFCS on the package but they do supply a toll-free numbers.  If we call the company and ask, will they tell us if the HFCS in their product contains mercury? Certainly the FDA isn't going to do it for us.  But a better way is to minimize the amount of HFCS we and our families ingest. Trader Joe's carries many products free of HFCS. But the best way is to become a rapid label reader, and take back control of what we eat- to cook and prepare our own foods.  If you eat cheap fast food, you get cheap, highly processed ingredients, and a body to show for it.  You get what you pay for!!
For those readers who wish to learn more, I commend to you the  January article published in Environmental Health.  And this paper by the Institute for Agriculture and Trade Policy on the missing mercury.
Sylvia P. Onusic holds a BS in foods and nutrition, and a PhD in Health Education and Wellness, and has completed studies to qualify for RD (Registered Dietitian). She was a home economics teacher for many years.  Her concentration is in holistic nutrition with a focus on the evolution of food and the human body in relation to food allergies and disease.  Sylvia is the mother of two teenage sons, one on whom has celiac disease. She has several food allergies as well.

Paid Endorsement Disclosure: In order for me to support my blogging activities, I may receive monetary compensation or other types of renumeration for my endorsement, recommendation, testimonial and/or link to any products or services from this blog.